The Paul Butterfield Blues Band – The Paul Butterfield Blues Band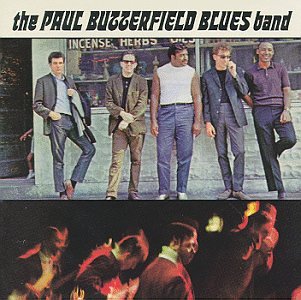 The Paul Butterfield Blues Band (1965)
A-
1. Born In Chicago 2. Shake Your Money Maker 3. Blues With A Feeling 4. Thank You Mr. Poobah 5. I Got My Mojo Working 6. Mellow Down Easy 7. Screamin' 8. Our Love Is Driftin' 9. Mystery Train 10. Last Night 11. Look Over Yonders Wall
We need to address something: on Monday, I listed to Taylor Swift's "We Are Never Ever Getting Back Together" like five times in a row. What can I say? Max Martin is an evil genius. I can feel myself being actively manipulated by his songs, but I give in anyway because the hooks are so fucking juicy. I also now think Taylor Swift is really hot. I used to think she looked like a chipmunk, but I guess she was only like 17 when she first became famous and just needed a couple of years to fill out. Do you think she has sex or is she saving herself marriage like all those other teen star dipshits? If she dated John Mayer, she pretty much definitely has had to have sex, right? Not that I'm a dirty-minded superficial prick or anything.
The good news is that I still think this album is better than Taylor Swift. Oh how glad I am that it is not about T-Swift's pasty white love life, but rather features lyrics such as "Well, my father told me,  'Son, you had better get a gun and bust a cap in the ass of some of these bitches up in here, dawg.'" OK, I made part of that up and this isn't in fact the first gangsta rap album ever recorded, but the fact remains that these were some seriously tough motherfuckers straight off the mean streets of South Chicago! Um, OK, that isn't really true either. Butterfield's father was a lawyer and he studied classical flute, Bishop was a physics student at the University of Chicago, and Bloomfield was born to a family of wealthy Jewish caterers. But man, when they played together, they sounded like the baddest, meanest dudes walking the Chicago streets. I'm willing to believe Paul when he sings about his friends going down one by one in the band's Greatest Hit "Born In Chicago" (written for the band by their friend Nick Gravenites, who later went on to form the Electric Flag with Bloomfield), if only cuz the groove is so tough and it rocks so hard.
The remainder of this album consists of (mostly) Chicago blues standards slathered in that incomparable Butterfield harp and all sorts of red-hot guitar licks by Mike Bloomfield. There are times when he sounds like he's just soloing over everything, but I don't mind a bit of overplaying when the guitarist is this good. His style is virtuosic yet also sloppy and manic, sorta like Jimmy Page, but with this killer biting Fender tone. It doesn't sound much like the jangly, folksy arpeggiations he was adding to "Like A Rolling Stone" and most of Dylan's Highway 61 Revisited, which was released only a couple of months before this, so he had range. He could also tear it up on slide geetar, as evidenced by his concise licks on the Elmore James cover "Shake Your Money Maker" (yes, this was a song before it was the title of a Black Crowes album. How disillusioned you must be) and his screaming riff on the ass-tearingly rocking "Look Over Yonders Wall," which is, um, another Elmore James cover. In the immortal words of George Harrison, "Elmore James got nothing on this, baby!" Also in the immortal words of George Harrison, "Hare hare Krishna, Krishna Krishna, hare hare."
There's only so much you can do with such formula-reliant material—hence the high A-minus—but Butter and the boys manage to pretty much manage to do it all over the course of this album. Other than the jivin' rockers, you've got a few slow burners, including Little Walter's essential blues harp workout "Blues With A Feeling" and the impassioned Bloomfield/Bishop composition and lead guitar showcase "Our Love Is Drifting," one of the record's clear highlights. You've got a token Muddy Waters cover, "I Got My Mojo Working," that Sam Lay gets to sing. And you've got a couple instrumentals, one of which ("Thank You Mr. Poobah") I find to be wearing and generic, but the other of which (the slinky "Screamin'") is based around this wailing harp/guitar lick that just fuckin' tears. I don't particularly care for the limp 60s Hammond organ that attempts to round out about half these tracks, but it's easily ignored. Just listen to the rest of it, man. This is one of the smokin'-est Chicago blues records ever.
Tomorrow is St. Patrick's Day! Don't drink as many Irish Car Bombs as I did two years ago! You'll only end up vomiting out your window at 3 in the morning.

One Comment