The Who – Join Together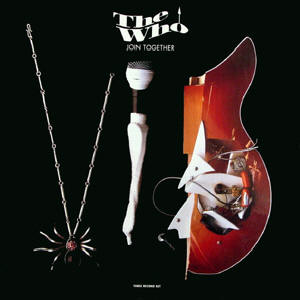 Join Together (1990)
B-
1. Overture/It's A Boy 2. 1921 3. Amazing Journey 4. Sparks 5. Eyesight To The Blind (The Hawker) 6. Christmas 7. Cousin Kevin 8. The Acid Queen 9. Pinball Wizard 10. Do You Think It's Alright? 11. Fiddle About 12. There's A Doctor 13. Go To The Mirror! 14. Smash The Mirror 15. Tommy Can You Hear Me 16. I'm Free 17. Miracle Cure 18. Sally Simpson 19. Sensation 20. Tommy's Holiday Camp 21. We're Not Gonna Take It 22. Eminence Front 23. Face The Face 24. Dig 25. I Can See For Miles 26. A Little Is Enough 27. 5:15 28. Love, Reign O'er Me 29. Trick Of The Light 30. Rough Boys 31. Join Together 32. You Better You Bet 33. Behind Blue Eyes 34. Won't Get Fooled Again
The first time the Who tried to replace Keith Moon, they just slotted in a different drummer. The second time they tried to replace him. For their 1989 reunion tour/Tommy 20th Anniversary bash-up extravaganza, they decided to replace him with fourteen drummers, 463 additional guitarists, a 741-piece horn section, 980 keyboard players, and 1,378 backup singers (note: numbers are approximate and not intended to be factual statements). Yup, it's Vegas time in Whoville, and the gigantic Who Revue Ensemble is here to play all your favorite hits with just the right amount of sterility and banal keyboards. HOORAY!
Join Together barely even sounds like the Who, and thus should probably suck significantly more than it does. It's essentially what Flashpoint was for the Rolling Stones: a live album recorded in 1989 featuring a lineup augmented by multiple backup musicians that is high in "professionalism" but low in the spontaneity and rawness that made those two classic rock juggernauts great in their respective primes. But man, at least Flashpoint showcased Keef and Ron Wood in peak form, probably sounding better than they did in the mid-70s. As for Join Together, well, Pete had started going deaf in the years since the last Who tour (I guess his eardrums atrophied from the time he spent in the mid-80s working at a publishing company), so he sticks almost entirely to acoustic guitar. He strums that ol' cigar box nearly to death to try and make up for his lack of volume, but that doesn't change the fact that a no-name session guitarist is playing nearly all the solos and riffs. Which is fucking bullshit. Had I seen this tour (or rather, had I been born when this tour took place), I'd have been almost as pissed off at this state of affairs as Harry Potter fangirls who went to see How To Succeed In Business Without Really Trying on Broadway on nights when Daniel Radcliffe took the night off. That was a weird reference, and I find it a little troubling that that's the first analogy that popped into my head (it's not my fault that my girlfriend writes Harry Potter fanfiction) but I think the same principle applies. It's a bait and switch. Pete does play a pretty tasty solo at the beginning of "Eminence Front," but that's about all. Fortunately, as I said in previous reviews, nobody is better at strumming an acoustic guitar than Pete Townshend, so it's not like his presence isn't felt.
Along with the compromised guitar attack, the NewWho feature a plastic-pop horn section, all the auxiliary synth sounds you could possibly dream of, two drummers (hey two good drummers amount to a better replacement for Moonie than one average one), and backup singers who want nothing more than to go "ooooooooo" for like half the duration of the album. As a result, Join Together's sound often comes across as Roger Daltrey singing along to pseudo-symphonic karaoke tracks. This isn't all bad… for one, the vocals are a consistent highlight of the proceedings. Rog rebounds massively from his catastrophic Who's Last performance and sounds pretty terrific here. He's not as blustery as he was in the 70s, since he's not competing with 128 decibels of hard rock crunch anymore, but he hits all the notes without a problem, and delivers them about as smoothly as he ever did. And secondly, everything had obviously been rehearsed down to a tee, so the playing is never incompetent or distasteful, unlike on Who's Last. The old Who magic may be buried under mountains of horns and synths here, but at least the band's latest configuration can, at times, create a decent simulation of it.
OK, so disc 1 is a performance of Tommy in its entirety, which is possibly the most useless thing in the history of music. Though it may not have been when it came out. Sure, now that we have the deluxe version of Live At Leeds and Live At The Isle Of Wight, we can hear supreme-quality live Tommy whenever we want, and thus this bloated Whochestra version is laughably obsolete. But in 1990, it was the only officially released version of Tommy available. So whatever, the singing is strong, I don't mind hearing the horn and organ parts and stuff from the original album recreated, and, other than the shit-funk desecrations of "Sparks" and "Eyesight To The Blind," it sounds fine.
But the second disc, made up of assorted hits and gems from the previous 25 years of Whodom, is a lot more interesting thanks to the eclectic tracklist. The title track is a heretofore forgotten but GREAT Lifehouse-era single that still sounds like the creation of the world's loudest marching band; "Eminence Front" is used as the second set opener; and John's token song is not "My Wife" or "Boris The Spider," his usual overplayed warhorses, but rather my obscure fave "Trick Of The Light" from Who Are You! Pete even drags a bunch of his solo stuff from the previous decade into the set, which may be a poison proposition to some, but is A-OK with me. The jivey "Face The Face," from 1985's White City, fits the expanded, horn-endowed lineup format perfectly, as does the feel good pop classic "A Little Is Enough." I'm surprised how much I like the Roger-sung "Dig" from the allegedly shittastic Iron Man, which is the only Townshend solo album I don't own. It's one of the album highlights, in fact. Granted none of the songs I've mentioned in this paragraph add anything to their studio version besides horns and, um, crowd noise, but hey… horns and crowd noise.
So, um… anyone else wish Bill Clinton would run for president again?