The Rolling Stones – Black And Blue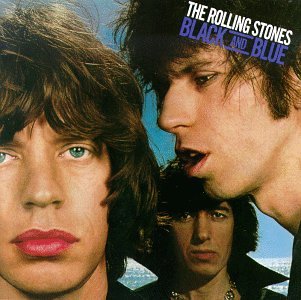 Black And Blue (1976)
A
1. Hot Stuff 2. Hand Of Fate 3. Cherry Oh Baby 4. Memory Motel 5. Hey Negrita 6. Melody 7. Fool To Cry 8. Crazy Mama
Alright. I should be getting back in the swing of things now. My girlfriend went back home to Michigan on Wednesday, which is bullshit, but her absence leaves a gaping void in my life just begging to be filled by another several dozen Stones reviews. And the desperate need to find creative ways to bide my time for as long as my long distance relationship is forced to remain long distance is one of the major reasons I started this website in the first place. So I'll be back to regular updates. At least, I should be – depending on how much time I get in between performing my numerous and time-consuming intern duties at a renowned magazine which shall not be named. I'm sitting at a desk there now! Can you see me through the window? I'm waving! Hi!
So anyway, in case you were wondering, that high grade up there for this baby isn't a mistake. Commonly looked upon ambivalently as yet another example of the Stones' mid-70s stagnation, Black And Blue is in fact one of the top 3 most underrated Stones albums of all time, along with Satanic Majesties and the much-maligned Undercover, which I'll get to soon enough. I can certainly understand why people wouldn't love it – it's perhaps the least Stonesy Stones album of all time, for a number of reasons. First, the songs, only two out of eight of which are traditional Stones rockers, which leaves the reminder of the running time to be filled by unexpected genre experiments. Second, the personnel – spiky-haired, big-nosed party animal and ex-Face/Rod Stewart compatriot Ronnie Wood filled in admirably for Mick Taylor on the 1975 tour, but when it came time to start recording Black And Blue, the band decided they would continue looking for a permanent replacement. So they used the album sessions as a platform to audition guitarists for the role of Keith's Bitch. As a result, the album features guitarical contributions from the leading candidates – migrant Alabama slinger Wayne Perkins and Canned Heat's Harvey Mandel (big names like Rory Gallagher and Jeff Beck are also said to have auditioned, but no recorded evidence exists). Woody also appears here, and, after having had the inside track in the first place, ultimately landed the job primarily for two reasons: 1) he's British, and the rest of the band didn't want to "go international," and 2) he was Keith's buddy. Not because he was the best guitarist of the bunch – in fact, judging by Mandel's and Perkins' playing here, he was the least technically proficient of the three. But he possessed a certain quality that the other two candidates—and Mick Taylor—lacked: the ability to be Keith's foil, to be a second guitarist rather than a lead guitarist, to reestablish "the ancient form of guitar weaving" upon which the Stones' guitar attack had originally been based on and Mick the Quitter had gotten it away from. And based on that, Ronnie has now been in the band a mind-blowing 36 years – three times as long as Brian Jones and Mick Taylor were in the band combined!
Ronnie isn't featured a whole lot here, but one of the two tracks he plays guitar on happens to be based around his own awesome riff on the funky butt rocker "Hey Negrita," which features one of the dirtiest, most dance-ready-yet-rockin' grooves the Stones ever laid down (though naturally he got screwed out of a writing credit). And although he only sings backing vocals on it, his presence can be felt, if only in spirit, on "Crazy Mama," the greatest Faces song the Faces never wrote, which features Keith conjuring one of his filthiest lead guitar licks. Though perhaps the strongest lead guitar performance on the album belongs to Wayne Perkins, who tears off a ripping solo on the fantastic riff rocker "Hand Of Fate" that reviewers often mistakenly credit to Mick Taylor. It does sound a lot like his style, which is why, as fantastic a player as he obviously was, he didn't get the job. Keith was sick of the whole lead/rhythm dichotomy that Mick Taylor's presence had created and wasn't about to pick someone that would just make things worse. The remedy? Ronnie Wood. Applied liberally and often.
The remainder of Black And Blue's running time is dedicated to wildly diverse but extremely successful genre experiments. A mindless, hypnotic funk groove? Check ("Hot Stuff"). A faithfully rendered reggae cover? Check ("Cherry Oh Baby," featuring some delightfully zealous Keith backup vocals). Piano-based lounge jazz co-sung and, according to the credits, "inspired" (i.e. co-written) by Billy Preston? Check ("Melody" – I used to not like this song because jazz kinda bores me–whatever, call me unsophisticated if you want–but now I think it's very brave and very good). Gooey epic-length balladry? Check (The seven and a half-minute "Memory Motel," one of the greatest Stones ballads ever! If Keith's "she's got a mind of her own" vocal interludes don't just melt your heartstrings then, buddy, you ain't got a heart). The only misstep in sight is the album's only hit, "Fool To Cry," which, based on my limited knowledge of 70s soul and funk music, sounds like Mick singing in falsetto over the backing track of a cheesy Barry White ballad. It's bizarre coming from the Stones, and it's certainly their sissiest single ever apart from possibly "She's A Rainbow." And though I nearly always skip it when I listen to this album, I don't hate it quite enough to drop the grade down.
So, ultimately, Black And Blue's less than sterling reputation is undeserved – the worst thing I can say about it is that is shares its title with a Backstreet Boys album released 24 years later (incidentally one of my favorite albums when I was 9. But I digress). It's great! And it's got a great cover! What do you think Keith is whispering to Mick? "Don't look now, but we're being watched. There's a stoic bass player behind us! Ahhhh!"