Uncle Tupelo – Introductory Page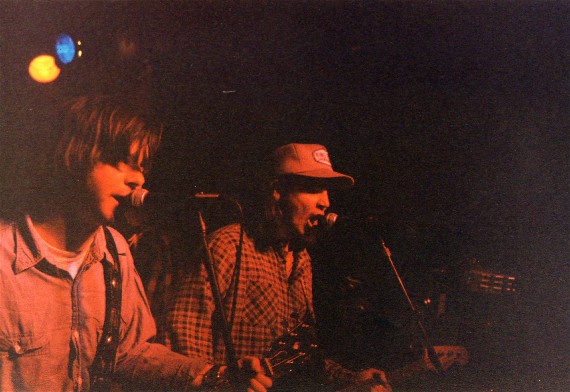 Uncle Tupelo
Reviews:
There's a lot of legend that goes with Uncle Tupelo's story, but when telling that story, one is not always forced to choose between printing the legend and leaving the facts in. That's because, often, their legend is their history. For instance, they are indeed right up there with Pavement in being one of the most influential bands in determining the direction of non-mainstream, guitar-based music of the last 20 years. And that's not just because they invented a subgenre of rock music: "alt-country," which has come to mean a great many, often contradictory, things to music critics (not to mention its wholly invented synonyms like "cowpunk" and "psychobilly"), but used to mean the melding of influences as seemingly disparate as the guitar assault of Black Flag, the punky time-shifts of the Minutemen, the weep-in-your-beer emotionality of Gram Parsons and the poignant social narratives of Woody Guthrie and the American folk tradition into something midway between punk and country. It was this synthesis that Uncle Tupelo introduced to the world with their watershed first album, No Depression, and the one that countless bands have attempted to emulate throughout the years that followed. Indeed, so weighty is Unkie's influence on alt-country that the genre itself is often called "No Depression." Certainly playing American roots music with loud guitars wasn't a new phenomenon when these guys started doing it – once acoustic guitars became more prominent in their sound than voltage-charged ones after their first two albums, a lot of people probably started to realize, "Hey! Neil Young has been doing this same shit for 20 years!" But few bands in the period emerging from the end of the deplorable cultural and musical morass of the 1980's were playing with the kind of folk-based grit and sincerity that UT were, and for that reason they stand out among their peers of the era.
But Unkie's myth extends well beyond their records. The band was formed in Belleville, Illinois by high school friends Jay Farrar and Jeff Tweedy, who turned out to be two of the most passive aggressive motherfuckers in rock history. Jay was ultra stoic, introverted and reverent toward his country and folk heroes, and Jeff was the punk-loving little runt who idolized him and got stuck playing bass. But as personally, professionally and even musically different as they eventually proved to be, when they wound up in the same 9th grade English class and both professed their affinity for Black Flag during an in-class exercise, well, according to both their accounts, that was enough to form the basis of a friendship in an uncultured suburb like Belleville. So they played together, wrote together and eventually joined up with the jokester of the group, drummer Mike Heidorn, becoming a formidable power trio in the process.
It worked out pretty great for a little while. But by as early 1992, Farrar and Tweedy were at odds and the band was falling apart. There are a number of different interpretations as to how this occurred. The popular view is that as the band began to achieve greater success (though certainly not financial success, as they were saddled with an exploitative record deal), the previously second-fiddle Tweedy started becoming a more confident personality while also beginning to write more and better songs that at times began to overshadow Farrar's own output, and the plaid-wearing, humble Farrar became bitter and resentful as a result. Farrar, after yeas of characteristic silence on the subject, did an interview in 2005 and claimed the catalyst as being Tweedy taking a drunken pass at Farrar's then-girlfriend, now-wife, in the back of a car. Seems a little narrow-minded and vindictive to blow up a band and a friendship over something like that without even letting Tweedy explain or apologize, no? But for a guy as shy as Jay, maybe not. In any case, the band almost broke up then and there, since at the same time Heidorn was beginning to grow wary of a life of touring and financial woe and wanted to settle down with his wife, but he stuck around to make the band's all-acoustic third album, March 16-20, 1992, so as to not miss the opportunity to work with R.E.M.'s Peter Buck, who produced the album. He split after that, and the band expanded to a 5-piece, with Tweedy switching to rhythm guitar and new members John Stirratt (bass), Ken Coomer (drums) and Max Johnston (multiple instruments) joining the fold. But the new lineup only lasted for one album, their swan song Anodyne, which Farrar only begrudgingly agreed to tour behind in order to pay off some of the band's debts. And it was hardly a happy experience for anyone involved – Farrar would do things like refuse to play or sing backup on Tweedy's songs and yell at him for saying so much as a word to the audience during a show.
It's easy, and perhaps correct, to view Tweedy as the victim and ultimate victor in this struggle, seeing as he rallied the remaining members of the band, minus Farrar, to form the first lineup of Wilco, which, in the process of branching out vastly from UT's original alt-country sound, has become as much of a mainstay of American rock music since the mid-90's as any other potential contender. Meanwhile, Farrar's band, Son Volt, remains active but, after their brilliant 1995 debut, Trace, seems to sink further into obscurity with each passing year. The padawan becomes the master and the master gets old. That's a perfectly fine interpretation, but these things are complicated, especially when the split came down to petty personal differences. To fans that have stayed loyal to Farrar for sticking to "a truer sound," it's Wilco that has gotten lost, and, of course, "'Gun' is still the best Jeff Tweedy song!"
Tweedy has, in fact, ultimately proved to have a higher and more expansive ceiling than Farrar, but I understand both points of view. That's because the work they produced together was so good, both forming the basis for so much of the music I love that has come since while also, often, epitomizing it. Farrar's unmistakably deep, heavy burr endowed his world-weary lamentations about the economic and social burdens of the world with a believability that they might not have had coming from any other twenty-something, middle class kid from Illinois. It sort of seemed like UT had a direct lineage to their old-time folk music heroes that Farrar sought to emulate – but they had that punk energy to keep their act from becoming one of antiquity. Though neither Farrar, Tweedy nor Heidorn were technical wizards on their instruments (though the duality of Heidorn's drumming has always impressed me, from his furious energy on the first two Uncle Tupelo albums to his more understated work with Son Volt), their prowess was such that they could burn through something with loud guitars and punk intensity and then turn right around and play a Louvin Brothers song straight with acoustic guitars – and both approaches were incredibly powerful. Because of the personalities within, it was inevitable that the band wouldn't last, and perhaps that's for the best, since we certainly wouldn't have gotten all the great music both Tweedy and Farrar have made since the split if they had stuck together within the strict "alt-country" paradigm. But no matter what has happened since they were together, Uncle Tupelo are never to be forgotten.

2 Comments